Yes, you may notice I love spreadsheets! And visual mapping.
Below are some resources (PDFs) that you are free to view in your browser and download. I'm always very keen to hear feedback, so feel free to join my mailing list, and let me know how you go with them!
There are also a few extra bonuses in there that aren't strictly around productivity but might contribute to having a nice life. 🙂
Hot tip: Productivity tools are only ever as good as your mindset … so don't forget to check in with that if you find you're still getting blocked.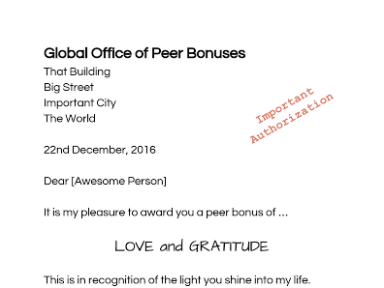 Peer Bonus of love and gratitude. Maybe you're grateful for someone's help or support but you're not in a position to give them a spot-bonus of cash … This one's for you! Click on the image above, or this link to go to the shared document, where you can download it in whatever format you like so you can tailor it to your needs. (Actually, maybe this one is my favourite.)
Panic Stations! is an informational sheet that you can print out to have on hand if need be. It was developed after talking with teenagers who are dealing with anxiety, and observing they've had challenges around communicating what exactly a panic attack is, and what you're supposed to do when someone near you is in a state of panic. (Also in German.)
Certainty Awareness is a great exercise to do when we feel things might be a bit chaotic. Because chaos can be a big drain on our energy, and (counter intuitively, perhaps) it actually gets in the way of being able to tap into our creativity. This worksheet may help us identify areas that are lacking in certainty, and thus enable us to act: to build in more certainty so we are able to embrace fluidity and flux more readily.
Sign up for my mailing list
You'll receive notifications of new blog posts, upcoming courses, and other resources.